Enjoy private dance lessons anytime
An ultra-miniature music player that you wear in your ear
SyncDancing is an ultra-miniature music player for ballroom dance practice that you wear in your ear like an earphone. In addition to metronome functionality, it has 20 built-in standard ballroom dance songs, so you can practice at any time while listening your favorite dance songs. This one unit provides everything you need for improving your dancing skills, sharpening your sense of rhythm, and becoming familiar with dance songs. You can practice by yourself, or synchronize the tempo via infrared so that two people can each wear a unit and practice together.
* The lineup also includes the In-EarMetronome and SyncMetronome that are ideal for practicing your instrument, and the StrokeRhythm that's ideal for improving your golf stroke. Choose the model that best meets your needs.
Practice dancing while listening to the rhythm or song directly in your ear
SyncDancing is a unique style of music player and metronome that you use by wearing it directly in your ear. Since the speaker unit fits directly in your ear, you can practice dancing with the correct rhythm while hearing the music directly in your ear. Because you can concentrate on the sound without being distracted by nearby sounds, this is ideal for personal practice at home as well as for practice in a large dance studio or hall. SyncDancing is extremely small and lightweight, so you can dance without any distraction.
The keys to improving your ballroom dance skills are to acquire steps and technique, nurture your sense of rhythm, and become able to express yourself by dancing to the music. With SyncDancing, you can experience rhythms and music anytime and anywhere for effective practicing.
Twenty standard ballroom dance songs are built-in
A total of twenty standard songs for ballroom dances such as waltz, tango, rhumba, and cha-cha-cha are built-in, and you can play them back while switching between the metronome and the song (*). Each of the internal songs was created by a professional arranger who actually produces music CDs for ballroom dance. The tone generator section also takes advantage of KORG's many years of experience in developing synthesizer technology, packing a high-quality sound engine into the smallest possible size. Since these songs play back as SMF, you can freely change their tempo. With SyncDancing, you can enjoy serious dance practice with CD-quality songs.
* The songs provide a one-measure count-in before they start playing.
Infrared tempo synchronization, ideal for practicing as a couple
SyncDancing supports not only individual practice but also practicing dance as a couple. Simply click two SyncDancing units together and press the sync button to synchronize the tempo and timing via infrared (*1). Even while wearing the unit directly in your ear, both partners can practice while hearing exactly the same tempo.
The timing (delay) from the moment of synchronization until playback begins can be set in a range of 0–90 seconds (*2). This gives you flexibility to meet the needs of various situations. For example you can specify a shorter delay if you're synchronizing the units and then immediately starting a lesson, or use a longer delay if you need time to get into your position in a large hall.
*1 There is no upper limit on the number of units that can be synchronized.
*2 The selectable intervals are 0, 5, 10, 15, 30, 60, and 90 seconds. One count is sounded at each second.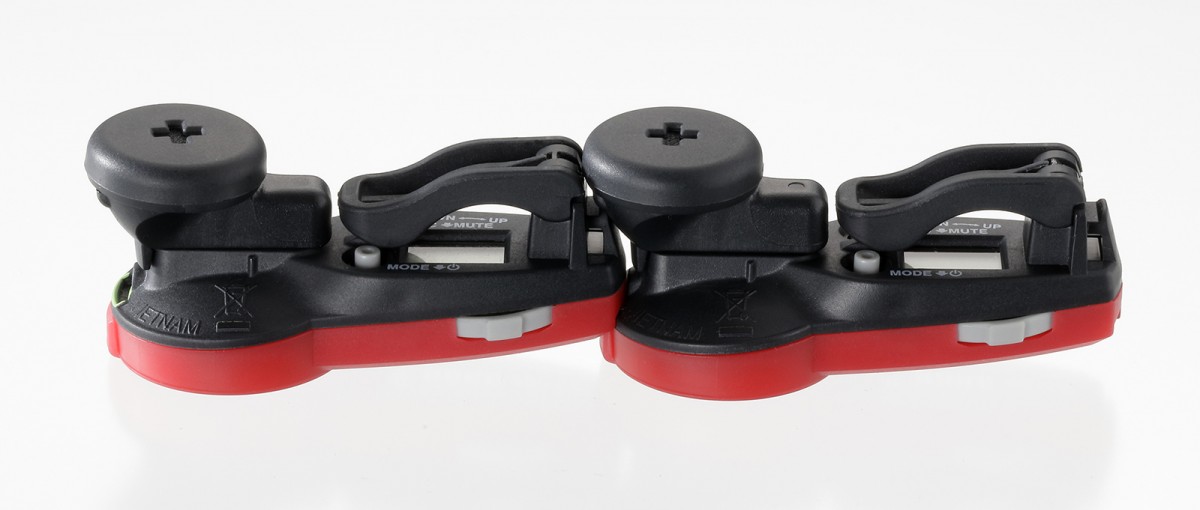 Built-in voice count is useful for lessons
SyncDancing's metronome sound (tone) provides not only the standard "beep beep beep" electronic tone but also a voice count of "one, two, three." You can practice with confidence while hearing the correct count.
A wide variety of beats and rhythms
The tempo setting range is a generous 30–252 bpm, and you can choose from a variety of beats and rhythms when using the metronome. You can set the beat in the range of 0–9 beats, and choose the rhythm from quarter notes, duplets, triplets, triplets with the inner beat omitted, triplets with the third beat omitted, quadruplets, quadruplets with the middle beats omitted, and quadruplets with the third and fourth beats omitted. This covers your practicing needs for a broad range of songs.
Use the jog switch to set the tempo intuitively
The SyncDancing features a jog switch on the side of the body, allowing you to easily change the settings without removing the unit from your ear. Using the jog switch you can select not just the tempo setting, but also the song or volume. This provides a compact yet highly intuitive method of operation. The mode select / power button, sync / mute button, and an LCD display that shows the tempo and other information are located on the inside of the body.
Comfortably and securely fits a variety of ear
The SyncDancing utilizes two distinctive mechanisms to ensure a stable fit in any ear, large or small. The first is an Ear Fitter that extends from below the speaker. Its angle can be finely adjusted by rotating the speaker itself, allowing to fit the various shapes of ear hole. The second is an Ear Clip that opens or closes to fasten on the earlobe. The clip ensures a solid hold that will not be dislodged even by vigorous dancing when in use.
Battery operation, and memory backup
In spite of its ultra-small sized body, the SyncDancing provides approximately 5 hours of continuous operation using a coin-type lithium battery. The memory backup function remembers the tempo and other settings even when the power is off. The battery can be easily replaced by opening and closing the cover located on the back of the body.
Ear pad and carrying case included
To enhance the fit, the SyncDancing includes a well-cushioned ear pad (*). Also included is a carrying case that neatly stores the SyncDancing itself, the battery, and the ear pad. You can take this with you for convenient rhythm training anywhere you go.
* If this is lost or damaged, you can use general ear pads (earphone diameter 16 mm).